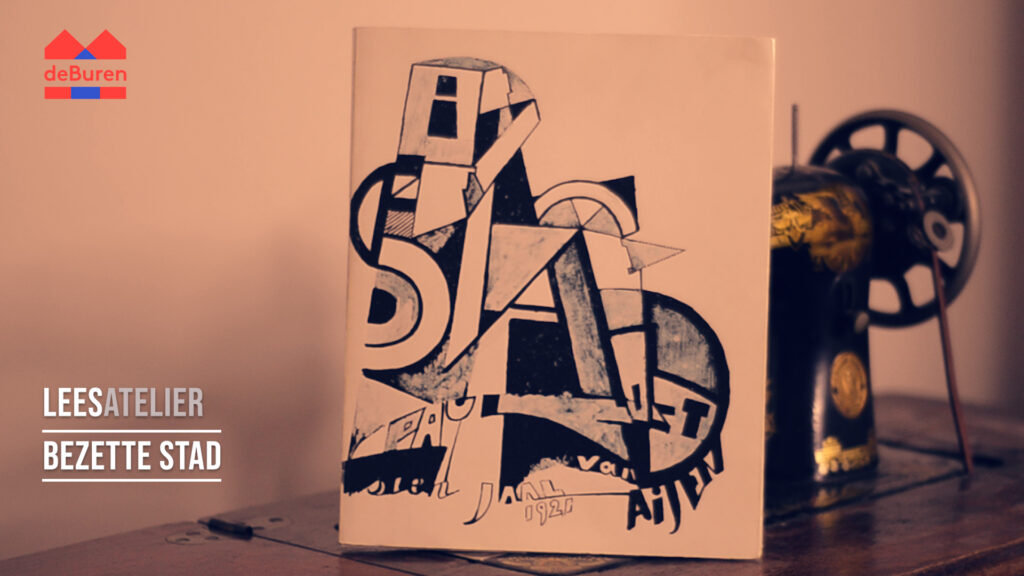 Met een 'Boem!' en een 'Paukeslag' viel Antwerpen in oktober 1914 ten prooi aan het krachtige geschut van het Duitse leger. De stad werd ingenomen en bleef vier jaar lang bezet. De straten waren plots leeg, overal hing de sfeer van dood en verderf, totdat de stad 'binnen de kring van haar moedeloosheid' plots toch weer begon te leven en de mensen durfden te dromen van een nieuw, misschien zelfs een totaal ander leven.
Bezette stad
Paul van Ostaijen keek in Bezette stad (1921) terug op de meest bewogen jaren van zijn leven. Hij deed dit in 'zelf-quarantaine' in zijn zelfverkozen ballingsoord Berlijn. Van Ostaijen was een echte avant-gardist. Hij zag de Eerste Wereldoorlog als de noodzakelijke ondergang van de oude wereld en als uitgelezen kans om op de puinen van het verleden een totaal nieuw bestaan te bouwen. Al tijdens de oorlog had hij zich sterk gemaakt voor de radicale modernisering van Europa, te beginnen bij het Koninkrijk België. In Berlijn zette hij de zoektocht naar een nieuwe wereld voort.
Bijna honderd jaar na dato roept Bezette stad veel herkenning op. Onze stad is natuurlijk niet bezet, maar wel besmet. De laatste weken zijn de straten weer leeg, ligt de dood op de loer, giert de wind 'hoe-hoe' tussen de huizen en ervaren we aan den lijve hoe kwetsbaar ons bestaan eigenlijk is. Maar ook nu zoekt de menselijke inventiviteit uitwegen. De Music-Hall van weleer is verboden terrein geworden. In plaats daarvan vinden mensen op het internet een uitlaatklep. Er wordt geprezen, geklaagd, gedanst, gezongen, gepodcast, geapplaudisseerd. Er ontstaan nieuwe creatieve samenwerkingen. Bovendien wordt er hardop nagedacht hoe we tijdens en na deze crisis onze wereld willen vormgeven.
Besmette Stad
Vlaams-Nederlands Huis deBuren lanceert met medewerking van het Paul van Ostaijengenootschap het multidisciplinaire project Besmette Stad, waarin we hedendaagse, artistieke antwoorden geven op de vragen die ook aan de basis lagen van Paul van Ostaijens meesterwerk. We volgen de chronologie van Bezette Stad en vragen ons af hoe wij ervoor staan aan het begin van het derde decennium van de eenentwintigste eeuw. Hoe weerstaan we het woekerende virus dat onze maatschappij zo plots en zo snel in haar voegen doet kraken? Natuurlijk willen we allemaal zo snel mogelijk weer naar buiten, naar het werk, naar het museum, naar de kapper … Maar willen we ook terug naar de situatie vóór de crisis? Of is dit ons nulpunt en moet het roer om?
Om deze en andere vragen op artistieke wijze te beantwoorden, nodigen we Vlaamse en Nederlandse kunstenaars uit om bij te dragen aan Besmette Stad. Matthijs de Ridder, die momenteel werkt aan de biografie van Paul van Ostaijen, verzorgt speciaal voor hen bij ieder gedicht een interactief minicollege. En hoewel Bezette stad als leidraad geldt, is niet de bedoeling dat het project over Paul van Ostaijen zal gaan. Besmette Stad gaat over ons. Over onze wereld. Over het virus dat ons met de neus op de feiten drukt. Over onze angsten. Maar ook en misschien wel vooral over onze dromen.
Leesateliers
Iedereen kent Bezette Stad van slogans als 'Boem paukeslag', van de springerige typografie, of van beelden zoals het woord zeppelin in de vorm van een zeppelin. Maar wat staat er eigenlijk? Matthijs de Ridder, die op dit moment werkt aan de biografie van Paul van Ostaijen, nodigt je virtueel uit in de woonkamer van de familie Van Ostaijen om samen Van Ostaijens meesterwerk te lezen. Klik hier voor een video, waarin hij alvast een kleine inleiding in dit avant-gardistische meesterwerk geeft. Inschrijven kan hier en is voor leden van het genootschap gratis.